Choosing the right electrician is an important process and should be taken very seriously. You'll want to ensure you're making the right choice as they'll be coming into your home and essentially messing around with the electronics. Not only can this be a dangerous job, but it will also impact you and your home. The last thing you want is a contractor coming in to do a job and instead, messing something else up. That's why in today's blog, we'll be going through some points that you should look out for when selecting a domestic electrician.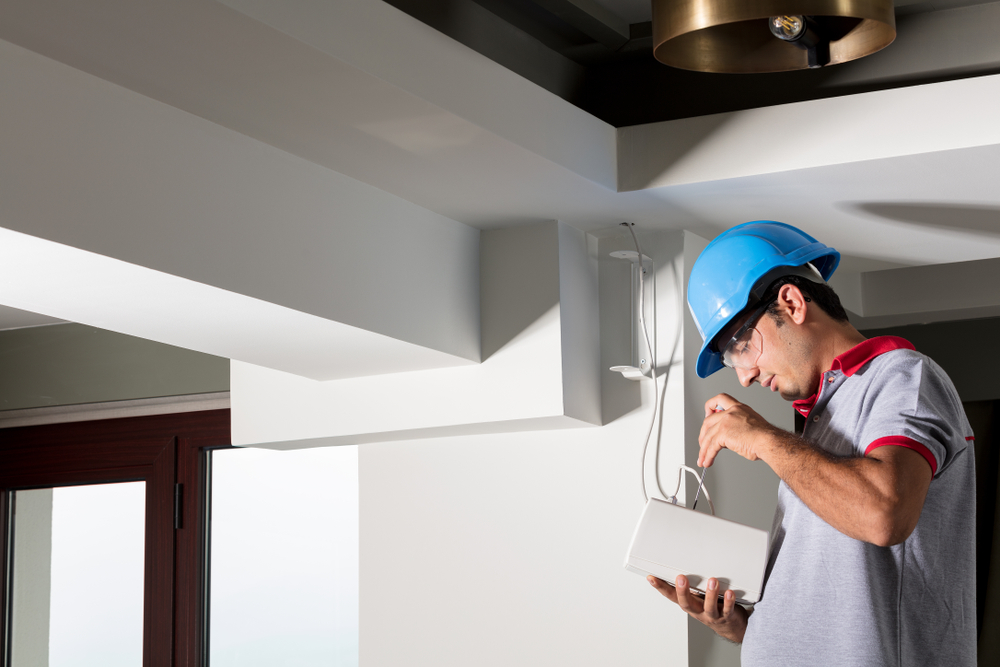 Finding a domestic electrician
It used to be that you'd spend time scouring the yellow pages to find yourself a good domestic electrician. Nowadays though, you have the power of the internet at your fingertips anywhere you go. When using Google to find an electrician, go a bit further than just their own website. There are other sites that will feature reviews and ratings for different companies, and this can give you a really good indication of what you may be dealing with.
Another way to go which has stood the test of time is word of mouth. Asking your friends or family who they've used is a great way to get in touch with a great sparky. One downside of this may be that if it's a family-friend that is the contractor, it can sometimes mean they'll treat it less than a real job and possibly take shortcuts. If you can, avoid using friends of the family.
Another option is to ask other contractors in different fields if they know anyone. This is a fantastic way to get a quality domestic electrician as generally other contractors that work on houses will have had worked with other contractors and will probably know someone.
Ensure they're appropriately qualified
It's one thing to have industry experience, but to legally be able to carry out the work they'll need to carry a valid electrical license as well as a Registered Electrical Contractors license (REC). Hiring a contractor with a license ensures that they've completed the necessary requirements – such as holding a Certificate III in Electrotechnology Electrician (or equivalent) and completing at least a four-year training apprenticeship. A REC license corroborates that the holder is fit to ethically and compliantly carry out electrical work.
After licensed contractors have completed any form of electrical work on a property, they must issue a certificate of electrical compliance. This states that the work they've completed is compliant with the state's legislation and wiring rules and that it has been properly tested and approved. Holding an electrical license entitles them to be able to legally perform all electrical installation work unsupervised as a contractor. That's why at iSpark Electrical Solutions we only use qualified and trained electricians that hold valid licenses.
Talk to them
Most electricians are able to handle the standard jobs but if you're in need of something a bit more unique, then you should have a chat with them about it. Ask them if they've done anything similar in the past. Check online to see if they have. Specific jobs such as high-fidelity audio electrical is a bit of a niche market – but you'll want to make sure something like that is done correctly.
Get it in writing
If you think you've found an electrician, then ask them to write up a contract with all appropriate names and processes that must be done. Be very clear about the job(s) that you want to be done so there can be no misunderstandings. If it's in writing, then no one can claim that there was a misunderstanding. Also, if you can, avoid paying cash. Payments should be made electronically and there should be a receipt or proof of payment that you can hold onto after the job is done.
Are you looking for a domestic electrician?
iSpark Electrical Solutions- Electrician Blackburn offers fully qualified and trained electrical contractors that specialise in a large variety of standard and specialised electrical services. Operating around Melbourne's eastern suburbs and all the way through to the CBD, our contractors are sure to get the job done in a professional and efficient manner.
If you're in need of a trusted and qualified domestic electrician – or would just like to know more about our services, then please give us a call on 1300 225 588. Alternatively, you can fill out the enquiry form found on our website.